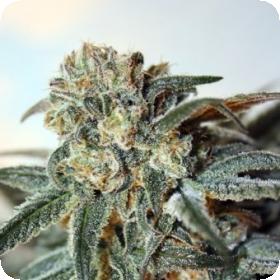 Zombie Kush Feminised Seeds
Zombie Kush is another multi award winning strain from Ripper Seeds. It is a combination of Lavender Kush and Amnesia.
This strain makes for an amazing indica strain if it is allowed to really stretch out the vegetative process. The plant has purple flowers who are covered in a beautiful coating of crystal resin.
This strain is ideal for those who love the flavour of classic Kush.
Zombie Kush has won 1st place for indica at the UCLA Cup in 2016, 1st place for popular hybrid at the BioCup in Canada 2016, 2nd place for resins at the Cannabis Champions Cup in 2014 and 2nd prize for resin at the Catalynya Cup Professionals in 2014.
This strain is feminised, which means that it will only grow into female plants. Feminised seeds are ideal for growers who don't plan on breeding their own crops.
These growers tend to have no use for the male plants, which can cause issues later on in the growing process. During flowering the males can harm the females and need to be removed.
This results in a massive waste of time, money and energy on the part of the grower. Feminised seeds can not only save valuable resources but also tend to be higher in quality and uniformity than regular seeds.
This strain can be grown indoors or outdoors and has a flowering time of 55 – 60 days.