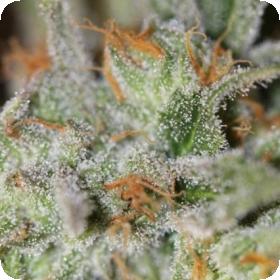 This 80/20 Sativa/Indica blend provides an energising, motivating effect that is supremely productive and creative, making it a fantastic daytime variety. Factor in this strain's pain-killing properties and it becomes clear just what a potent medicine this little plant can be.
Created by blending Touch of Grey with Jack the Ripper, Jack Straw can go from seed to harvest in as little as 63 days, where it will produce medium-to-tall variants of exceptional quality.
May be helpful for: Anxiety, ADHD, depression, pain relief, nausea and difficulties related to chemo and radiation therapies.
Flavour-wise, this strain tastes of sweet lemon jelly with a rich earthy undertone.
A great daytime variety, Jack Straw kills pain and has the remarkable effect of soothing an already tired mind, or amplifying an awake, alert state to a much more wired state: Simply incredible!
Genetics:
Touch of Grey X Jack The Ripper