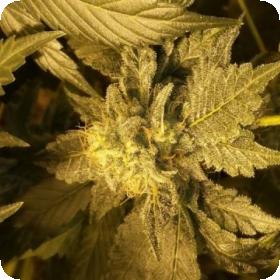 OG Critical Feminised Seeds
This strain is a combination between two top quality strains, Emerald Jack and Critical Mass. Critical Mass is so called because of its incredibly impressive yields.
This hybrid gives massive yields of flavoursome, hard hitting buds covered in resin. This plant will usually be quite tall and will need a fair bit of support to make sure that it remains healthy.
This strain is a really great choice for SCROG systems but can grow well in a number of environments.
OG Critical is a feminised strain, meaning that the seeds will only grow into female plants. Feminised seeds were created to make life easier for growers. For those who have no plans to breed their own plants, the male plants are little more than a nuisance.
The males can harm the females during the growing process, as a result they will need to be removed.
Since a regular crop is made up of half males and half females, this means that half of the seeds are wasted. It is also true that the way in which feminised seeds are bred means that they are higher in quality and uniformity than regular plants.
This strain will grow extremely well both indoors and outdoors.
Keep in mind that the cultivation of cannabis is illegal in several countries. Please check the laws of your country before attempting to grow cannabis seeds.
Genetics:
Emerald Jack x Critical (Mass)