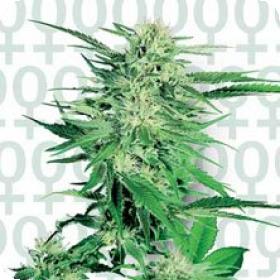 This aptly named strain, Big Bud, is famous for having a ridiculously high yield. The strain has taken a long time to be perfected by the breeders at Sensi Seeds but all the time put into the strain was unquestionably worth it.
Now it has been released to the public in its completely feminised form. Sensi Seeds have been tampering with this strain for a long time now, it started as a strain which already gave a massively impressive yield.
They accomplished this by bringing Big Bud back to its original form by combining it with a rare Afghani which then created the award-winning strain.
The strain that is now available to the public has been refined and perfected. It is a potent and vigorous strain with a crisp, spicy, and even fruity aroma. Another excellent attribute of this strain is that it can be very easy to predict and control the height of it making it extremely versatile.
The plant can be kept under 30 cm or it can be grown to a rather impressive height if given its full vegetation time. As mentioned previously the edited version of this strain is feminised.
Feminising seeds has become extremely popular as of late and has almost completely replaced the concept of the regular seed. Regular seeds, for many, can have a lot of draw backs, the main issue being the male plants.
For many growers male plants have absolutely no place in their crop as they can be a massive waste of time, space, and especially money. Using regular seeds a grower would have to purchase twice as many seeds as the desired number of productive females.
This is no longer an issue with feminised seeds as it is essentially guaranteed that all of the plants will be female. Many people argue that male plants are necessary for the cultivation of future crops but this is no longer the case.
Females can in fact be convinced to produce a very similar pollen to that which is needed for fertilisation. It is certainly a far more difficult process at the moment and should not be undertaken by novice breeders.
The end result however would be of a higher quality and stability than plants born of a male and female plant.
This strain grows best in the Mediterranean or in sunnier climates, it is 85% Indica, and its flowering period is 50 - 65 days.
Please remember that the growing of cannabis plants and the cultivation of seeds is illegal in some countries - please check the laws of your country and don't be growing any plants if it is against your country's laws