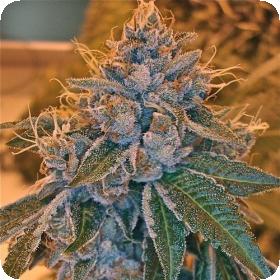 Kosher Kush Regular Seeds
Here is your opportunity to experience the nearly all-indica award-winning strain that took top honours in the 2011 High Times Cannabis Cup for Indicas.
A result of crossing two iconic strains - Kosher and OG Kush - Kosher Kush is renowned for its excellent quality and heavy cerebral effect. Reserva Privada and the Vault are pleased to offer it in feminised seed form.
For those who prefer good-quality, heady indicas this amazing strain was originally developed by DNA Genetics. Its quality and effect have been perfected by Reserva Privada through the use of plants that exhibit the best possible genetic attributes.
This strain is very stable and dependable, making it simple to cultivate a a germination rate of nearly 100 percent.
It is no mystery why Kosher Kush has been an object of such high praise. The two parent strains are each legendary on their own and have each received their fair share of praise.
The amounts of THC and CBD have not been disclosed by the breeder, but the strain's powerful couch-locking effect is a definite indicator of its potency.
Kosher Kusch grows well in indoor setups, but they do have a distinct aroma that is highly-permeable over a broad area. Absent of adequate ventilation and air filtration the secret will most certainly be over.
Growers should exercise due care when cultivating this strain outdoors since the smell will extend to a sizeable radius.
These plants typically grow short enough to acclimate well to any grow method or space. When grown indoors, they tend to prefer hydro setups but soil substrates will also yield excellent results, particularly for experienced growers.
Flower time indoors is about 9 weeks. These plants prefer a 16/8 light cycle during the vegetative period adjusted to 12/12 during their flower period.