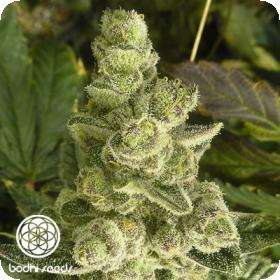 Space Cake is a combination of Girl Scout Cookies and Snow Lotus, an amazing mixture that has created an awesome, out of this world strain. The terpene profile of Girl Scout Cookies is seriously impressive as is its massive structure. It has all of the lovely, uplifting high of Snow Lotus with a touch of the heavy, couch lock of Girl Scout Cookies.
This strain is absolutely delicious and has taken on all of the wonderful flavours and smells of both strains. Over all this fantastic strain should be in everyone's garden.
Space Cake is a regular strain which means that it will grow into a combination of male and female plants. This makes them ideal for breeders who require both genders in order to easily breed their own future crop. They can select the best male and the best female in order to weed out the negative genes and up the positive traits.
Old school growers usually prefer regular seeds as well because they haven't been messed around with in order to render them easier to use.
The strain flowers in just 9 weeks and can be grown indoors or outdoors.
Remember that the cultivation of cannabis seeds is illegal in some countries, please check the laws of your country before attempting to cultivate cannabis seeds.