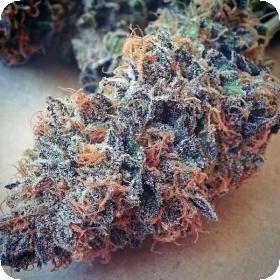 Ultimate Purple Regular Seeds
The breeders at BC Bud Depot took a good look at their multi award winning strain 'The Purps' and decided that it was not yet the ultimate purple strain. There were a few minor issues with the plant to begin with.
On occasion the plant would have all of the amazing purple colours that were expected of it, but no potency. Sometimes it would be absolutely delicious to smoke, but would flower very slowly.
Despite the strain still being of the highest quality they were not satisfied and they set out to create the Ultimate Purple strain. To accomplish this they crossed The Purps with Grand Daddy Purple, Purple Urkle, SR71 Purple Kush and Grape Ape.
The result has the best of all the strains; delicious, fast flowering, beautiful to look at and with an incredible scent. This is truly a king amongst cannabis plants.
Ultimate Purple can be purchased in its regular form. These are usually most popular amongst old school growers due to the fact that they haven't been altered in order to be more "user friendly".
In fact regular plants are often used by activists in attempts to reintroduce cannabis into the wild. If they are left in the right environment they can grow, breed and thrive all on their own.
They are also very popular amongst breeders as they will grow into a combination of male and female plants.
This train can grow indoors or outdoors, has a flowering time of 7 - 8 weeks, and should be harvested in late September.
Remember that the cultivation of cannabis seeds is illegal in some countries, please check the laws of your country before attempting to cultivate cannabis seeds.