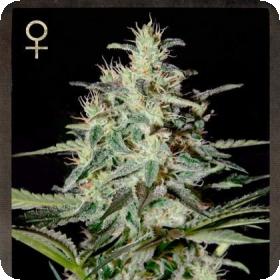 White Lemon Feminised Seeds
This perfect 50/50 Indica/Sativa blend takes El Nino and crosses it with Super Lemon Haze to produce a strain that generates an intense, long-lasting high, massive yields and thickly packed globs of resin.
Height: medium plant (average internodal distance 8-10 cm). Flowering Indoor: 8-9 weeks flowering time. Yield up to 0.9 gram (dry and manicured) per watt per m2 (with 1000W HPS). Flowering Outdoor: 9 weeks flowering time. Very large plants can harvest over 1Kg of dried, manicured buds.
Whilst it comes on as a bit of a creeper, this strain hits hard with a euphoric, cerebral high before tapering off into a deep, full body stone.
Tasting and smelling of lemon, skunk and haze, the flavour profile is incredibly complex. Hints of cedar wood, nuts and spices make for an intriguing taste experience.