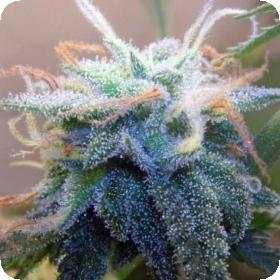 BC White Widow Regular Seeds
BC White Widow is BC Bud Depot's version of one of the worlds most famous strains. White Widow was created in the 1990s and when straight into Amsterdam's coffee shops. From there it achieved world wide popularity and hasn't slowed down since. It is a hybrid between a Brazilian Sativa and a South Indian Indica giving it a great balance. It's effect will hit hard and fast at first and then slows down to a gentle relaxation.
Visually it is a gorgeous plant with thick buds coated in frosty white resin. In fact the resin content is so high on White Widow that it was named after it. This is a perfect strain for enjoying the more beautiful parts of life, and having your face blown off.
BC White Widow can be purchased in its regular form which is ideal for breeders. Regular strains will grow into a combination of male and female plants and require a light cycle in order to flower. In order to ensure that their crops only increase in quality the breeder must select the very best male and female to pass on their genes.
Some activists even use regular seeds in attempts to reintroduce cannabis into the wild. If the seeds are planted in the correct environment they can grow and breed all on their own.
This strain can grow pretty much anywhere, indoors, outdoors, or in a greenhouse. It has a flowering time of around 8 weeks and should be harvested outdoors in October.
Remember that the cultivation of cannabis seeds is illegal in some countries, please check the laws of your country before attempting to cultivate cannabis seeds.