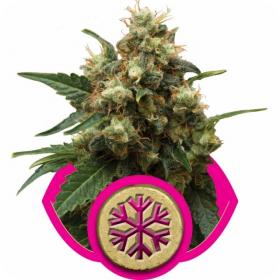 Royal Queen Seeds Ice strain so gains its name from the fact that it is so resin packed and produces buds that are so sparkling that they look like frost.
It is a cross between an Afghan, Northern Light, and a Skunk strain which results in a 90% Indica dominant plant, which can be seen in the way it grows.
Although not a tall plant, reaching from 80-120 cm both indoors and outdoors a bigger yield can be achieved by pinching or topping, which causes it to grow outwards.
If grown outdoors it prefers the warmer climate of countries such as Spain or Italy, if indoors it requires a 600 W light.
After a flowering time of 8 weeks, although some prefer to leave it for 10 weeks to increase the resin, it will produce an indoor yield of 400-450gr m2 compared with 500-600g per plant dried outdoors.
In order to help novice and expert growers alike Royal Queen Seeds has made Ice feminised which means that there is a 99.99% chance that all the seeds will be female.
The reason that this is so useful is that in regular packs about 50% of the seeds will be male, but in actual fact, the males serve no purpose other than to take up valuable time and space which would be better served on the females.
It even means that a grower must spend twice the amount of money to buy twice the number of seeds just to ensure that there are enough females. Feminised seeds eradicates this problem.
If a grower wished to breed their own crop it is true that the male pollen is needed for reproduction, however even then there is a way to manipulate the females into producing this pollen, although it is an extremely tricky process and the chances are that novice growers would not be successful.
If it can be achieved, on the other hand, the future crop will have a greater level of genetic purity as the seeds will only have the traits of the most desirable females.
Please remember that the growing of cannabis plants and the cultivation of seeds is illegal in some countries - please check the laws of your country and don't be growing any plants if it is against your country's laws.
Genetics:
Afghan x Northern Lights x Skunk