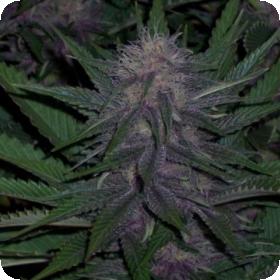 BC Blueberry Regular Seeds
For any growers and breeders out there who fancy themselves fans of vintage strains, this one is for you. This Indica dominant Blueberry beauty can be traced back to British Columbia in the late 70s. BC Blueberry is also an award winner, she came 2nd in the 2011 Toronto Treating Yourself Medical Cup in the Private Growers Category. It produces amazing yields of sweet, delicious buds with fine red, purple and blue colours that change with the conditions that the plant is grown in.
Once the weed has been cured these colours turn to a delicate lavender shade. Of course the flavour and scent of the strain are largely reminiscent of perfectly ripe blueberries, this is a strain that just keeps on giving.
BC Blueberry is a feminised strain which means that the seeds will only grow into female plants. Growers tend to be more fond of feminised seeds since they can have no need for the male plants. For anyone who has no plans the breed their own plants the males are nothing more than a nuisance. They take up space, time and money that would be better spent on the female plants. They also need to be removed during the flowering process so that they don't hurt the females, a time consuming and fiddly process that is really best avoided.
This versatile plant can be grown indoors, outdoors or in a greenhouse and has a flowering time of just 56 days.
Remember that the cultivation of cannabis seeds is illegal in some countries, please check the laws of your country before attempting to cultivate cannabis seeds.