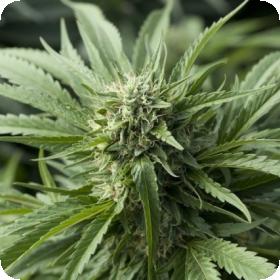 Blueberry Headband Feminised Seeds
Blueberry Headband is a lovely, lanky plant by Emerald Triangle. It is a combination of four winners; Blueberry, Emerald OG, Cali Sour D and Pre '98 Bubba. This strain is best known for its robust nature and its vigorous growth, not to mention its massive yields.
It is extremely resistant to mould and mildew, perfect for more humid areas. It has a heavy smell of fuel with a sweet berry background, and just a hint of peppery spice. It will be a relatively tight plant with close together nodes and long colas.
This strain can be purchased in its feminised form, which is perfect for growers. Growers have no need for male plants, as they have no need for the male pollen.
Feminised plants not only save growers a lot of time and money, but they also increase the quality and uniformity of the crop.
The males would usually need to be removed during the flowering process which is simply a pain in the butt. Breeders can also use feminised seeds, however it is very difficult to breed using female plants.
This process should only really be attempted by experienced breeders.
This strain will grow well indoors and outdoors, it has a flowering time of just 9 weeks.
Keep in mind that the cultivation of cannabis is illegal in several countries. Please check the laws of your country before attempting to grow cannabis seeds.
Genetics:
'76 Blueberry X Emerald OG X Cali Sour D X Pre '98 Bubba