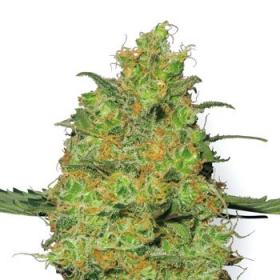 Master Kush Feminised Seeds
Master Kush Feminised is a great strain for old school indica fans who love the classic flavour of Hindu Kush but want something a little more up to date in the growing department.
This strain is a combination of two of the best indica strains around, a compact hybrid that produces huge, sticky buds. This strain develops the same huge amounts of resin as the original, regular version while saving growers a lot of time and money.
It is a perfect strain for extraction and making hash. The effect is just as powerful as the original and the flavour is just as mouth-watering and nostalgic as real connoisseurs have some to expect.
This strain is feminised and will only grow into female plants. Feminised seeds are perfect for those who have no need for the male plants, such as growers who don't plan on breeding.
These growers can waste a huge amount of money, time and energy on the male plants that end up having to be removed from the crop. This also wastes a lot of growing space that would be better used on the female plants.
Feminised seeds also tend to be of a higher quality and more impressive level of uniformity than regular seeds. For this reason, some breeders also prefer to use them, despite the increased difficulty involved in feminised breeding.
This strain can be grown indoors or outdoors and has a flowering time of 50 – 55 days.