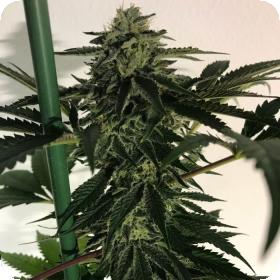 Blue Sherbert S1 Feminised Seeds
Blue Sherbert (aka Blue Sherbet) is a colourful, sativa-dominant hybrid with a short flowering time. It is a cross of Blue Cookies and Sunset Sherbet that has an exotic taste and a powerful effect.
In this version, pollen was supplied by another female plant which was "reversed" in order to produce pollen bags for fertilisation and breeding.
It can be grown both indoor and outdoor with surprisingly short indoor flowering for a plant that is 85% sativa between 8-9 weeks. Yields are very good and come in between 500-550 gr/m2.
These plants turn a lovely dark blue/purple colour towards the end of the flowering period, all the more so if the temperatures of the night drop markedly.
The flavours of Blue Sherbert are very exotic. Its effect is very hard-hitting, combining brain stimulation with physical relaxation.
Genetics:
Blue Sherbert x Blue Sherbert Reversed