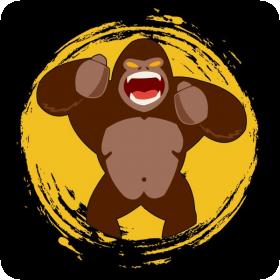 CBD Kong's Kush Feminised Seeds
Kongs Kush CBD is a fantastic medicinal strain that is a combination of many wonderful strains. It was created by combining Blue Afghan, itself a mix of Afghani and Blue Skunk, and OG Kush, which was bred by Sumo Seeds from two Kush Strains.
It is an indica dominant, easy to grow strain with a good yield of roughly 450 – 550 g/m2 when grown outdoors, or 600 – 800 g/plant when grown outdoors. This strain has a strong smell of sour lemons and has a medium CBD and THC production.
The high CBD means that the effect is pleasant on the body without being mind altering. This makes it ideal for those who are looking for a strain to help with stress or pain without an intense mental effect.
This strain is feminised and will only grow into female plants. Feminised seeds are ideal for growers because they don't have to deal with the male plants. Most growers have no use for male plants and have to remove them from the crop before they harm the females.
This is a huge waste of time, money and energy that would be much better used on the female plants. Feminised seeds tend to be higher in quality and uniformity than regular seeds.
For this reason, some breeders also prefer to use feminised seeds. However, feminised breeding is far more difficult than regular breeding and should only be attempted by experienced breeders.
This strain can be grown indoors, outdoors or in a greenhouse and has a flowering time of 53 – 63 days.
Remember that the cultivation of cannabis seeds is illegal in some countries, please check the laws of your country before attempting to cultivate cannabis seeds.
Genetics:
Blue Afghan x Sumo's OG Kush