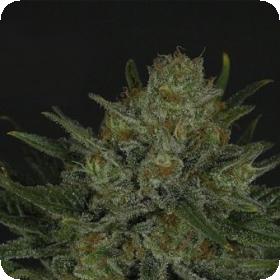 Double Glock Feminised Seeds
Double Glock is an Afghan treasure that is 100% indica and very potent. This strain has it all; it's stable, produces an impressive yield, shows amazing plant uniformity and has all of that amazing indica effect.
It makes a wonderful medicinal strain as it is both extremely mentally and physically relaxing with a sedative effect that makes it great for the night time.
This strain is not for the faint of heart and is very likely to knock a lot of socks off. This strain is ideal for all the indica lovers out there who also want a plant they can rely on.
This strain is feminised, making it ideal for growers. Most growers have no need for the male plants, which take up around half of a regular crop.
They take up valuable time, space and money that would be much better spent on the female plants. Feminised seeds also tend to be higher in quality and uniformity than regular plants.
For this reason some breeders also prefer to use feminised seeds, despite the increased difficulty of feminised breeding.
Female plants have to be stressed into producing feminised pollen, which isn't an easy feat and should only be attempted by experienced breeders.
This strain can be grown indoors or outdoors and has a flowering time of 60 – 65 days.