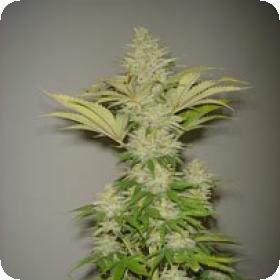 Bubblicious Feminised Seeds
Bubblicious Feminised by Resin Seeds is a stable, 100 percent feminised cannabis strain. It was created by crossing an original iconic Bubblegum female with an F1 hybrid Lavender male.
AS if the amazing smell of the original Bubblegum wasn't tasty enough, adding the Lavender genetics to it creates an aroma so unique and so distinguished it is almost a shame to harvest it. The look of these plants makes it seem so all the more.
This is a very carefully-selected phenotype that does not suffer from any of the negative attributes that have been reported and circulated about this strain.
You can buy these seeds with confidence knowing that they are, in fact, completely stable and will also produce a yield that is at least on par with any other plant in your grow room or garden.
These seeds produce plants that have a brief 60-day flowering period, the structure, flavour and aroma of both parent strains mingled into one and a very high THC content.
Average yield is in the vicinity of 500 g per square metre with fluctuations depending solely on the growing method and environment.
Growing Bubblicious is relatively simple. It responds to any preferred indoor or outdoor growing method. Indoors, specialised methods like SOG and ScrOG will promote slightly higher yields.
Outdoors, those yields are comparable and each plant is capable of more than one harvest if provided a long growing season.
The effect of Bubblicious is very strong. The THC content is very high and the genetics are predominantly Indica. It delivers a very head-filling experience with just enough sativa influence to keep the user alert (but not terribly active).
Those looking for a strain that delivers a nice, balanced relaxed state that lasts a good long while will be very pleased with this strain.
Please remember that the growing of cannabis plants and the cultivation of seeds is illegal in some countries - please check the laws of your country and don't be growing any plants if it is against your country's laws.