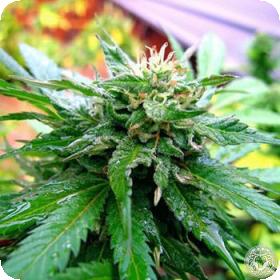 White KC is a mostly indica cannabis strain created by crossing KC606 and Real White Lady (a hybrid of White Widow, KC 33 and Afghani). These seeds been developed especially for indoor cultivation and it is known to produce exceptional yields with a minimum of effort. This is a great strain for first-time growers or for those who appreciate a strain they can practically throw and grow.
Since both of parent strains are exceptionally consistent, White KC is also. Plants grown from these seeds have very distinctive and interesting look. This strain grows short and bushy with broad dark green leaves that lend a perfect cover for its thin, but very sturdy, stem.
White KC flowers very easily. The first of the flowers appear after about 6 weeks and quickly turn into tight, compact buds that shimmer with shiny, white crystals. This variety of cannabis will yield approximately 120 grams of quality product per plant when grown indoors.
While these seeds were bred for growing indoors, they are versatile enough to grow outdoors as well in temperate and predictable climates. They are ready for harvesting toward the end of September and harvesting can continue through the month of October if outdoor temperatures have not dropped considerably at night by then. This petite strain can stretch to as tall as 2.5 metres with astonishing yields topping 900 g per plant.
White KC is also touted as an excellent choice for medical applications and for those who know and enjoy strains with White genetics. Those genetics shine through in the smell, flavour and effect of this strain. The noble parent lines work together to create an experience that is truly unique, providing a wonderfully flowery aroma coupled with a taste that matches and an effect that is immediate and lasts a long time.