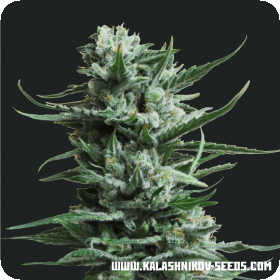 Siberian Haze Feminised Seeds
Siberian Haze has all of the magic of cold, snowy Siberia in one little plant. It is tall an bushy with beautiful white trichomes that make the plant look like a snow covered tree. It has a delicious pine scent that will add a freshness to any garden.
It is a combination of Amnesia and Haze that produces a tall and branch plant that has a short flowering time. It also has a powerful and heady Sativa effect which makes it ideal for chilling out, or as a night time medicinal strain.
This strain is feminised which means that it will only grow into female plants. Feminised seeds are very popular with growers, who have no need for the male plants. The males usually just take up a lot of time and space that would better be used by the female plants. They are also a massive waste of resources, primarily money.
For the same price as a regular crop a grower can now buy twice as many productive female plants. Feminised seeds also tend to be higher in quality and uniformity than regular seeds. This means that they are sometimes used by breeders, however feminised breeding is quite difficult and should only be attempted by experienced breeders.
This strain can be grown indoors or outdoors and will only take 65 - 75 days to flower.
Remember that the cultivation of cannabis seeds is illegal in some countries, please check the laws of your country before attempting to cultivate cannabis seeds.