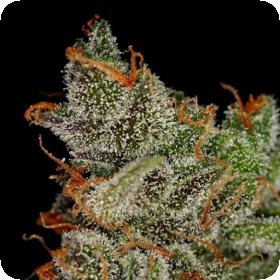 King's Kush Feminised Seeds
King's Kush feminised is a relatively new all-indica strain from Green House Seed Co. that combines the best genetics of OG Kush and Grape for the ultimate indica ride. As it grows, it's indica qualities become apparent.
These plants take on the classic, tight christmas tree shape that lets you know that this bud is the real deal. They develop slowly but the anticipation is well worth the experience.
The effect of King Kush is as indica as it gets: a heavy, full-body, couch-locked stone that seems to go on forever. The THC content is high. CBD is low at just .33 percent on average.
Even with these numbers, there are a good number of medical marijuana users who swear by King's Kush for its aid as a pain reliever a muscle relaxer.
The size of these plants lends them well to indoor grow setups. They are small enough for not just SOG setups but also closets and balconies. They work well in any soil or hydro environment and yield in comparable amounts regardless of the growing medium.
Outdoors, King's Kush stands up better than average to fluctuations in temperature.
It is safe to grow them outside in the Northern Hemisphere as late as mid- to late-October but do be sure to bring them in before any widespread frost sets in as that kind of exposure will diminish the quality of the end product.
If you are looking for an easy-to-grow pure sativa, look no further than King's Kush. These plants practically grow themselves making them the ideal choice for larger growing operations and or novice growers who need a somewhat easy strain to start out. The slow growing can try