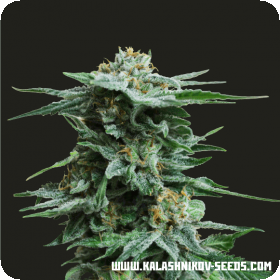 Kalashnikov Seeds are well known for their mastery of the popular AK - 47 strain. AK Kush is definitely their most impressive indica strain, as they claim themselves. This strain is super resistant to mould and pests while giving amazing results without needing too much love and care.
AK Kush is definitely a great choice for less experienced growers who still want to grow quality cannabis. The effect is pretty potent and deeply relaxing with a nice little cerebral nip.
The THC level usually hits around 20% which means it is great for those who suffer from pain or sleep issues such as insomnia. The flavour is a combination of mint and lemon with a deliciously strong scent to match.
AK Kush is a feminised strain which means that it will only grow into female plants. Feminised seeds are most popular with growers, who don't need the male plants. Males take up valuable time, space and money which could be much better used on the productive female plants.
Feminised seeds not only make life way easier, but will also be higher in quality and uniformity than a regular crop. This means that some breeders also go to the effort of using feminised seeds for breeding since the results are so much more impressive.
This strain needs 50 - 60 days to flower and can be grown indoors or outdoors.
Remember that the cultivation of cannabis seeds is illegal in some countries, please check the laws of your country before attempting to cultivate cannabis seeds.
Genetics:
Kuban Indica x Afgan Kush x AK-47