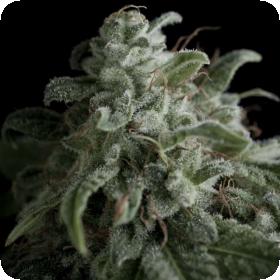 Nefertiti Feminised Seeds
This strain by Pyramid Seeds known as Nefertiti or 'Lady of the Two Lands' is one powerful plant. It has very high THC levels and is sure knock even the most seasoned smokers down a couple of pegs.
The strain gets its name due to its intense parentage, it is a hybrid of White Widow and Black Widow. When growing this strain the vegetative period must be kept short and if it is grown correctly it will be manageable and well-behaved.
Then it will reward its grower with some seriously impressive buds covered in resin. Unsurprisingly Nefertiti is an award winner and in 2007 wont 1st place for Hydro at Spannabis.
Nefertiti is a feminised strain so it will only grow into female plants. Feminised seeds still require a light cycle in order to flower and the light cycle on this plant can be a little trickier than others.
Over all the plants will likely be of a higher level of quality and uniformity than regular plants.
This strain can be grown indoors or outdoors, has a flowering period of 75 - 85 days and should be harvested in October. Nefertiti can give amazing outdoor yields and an indoor yield of 500 - 600 g/m2.
Genetics:
Black Widow x White Widow