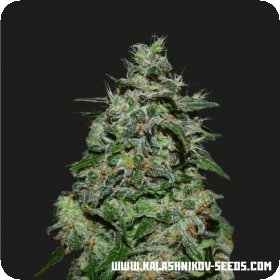 AK Kush Express Feminised Seeds
This version of the classic AK Kush tops all of the great flavours, effects and scents of the original, but there is one primary difference. It flowers much faster than its parent plants as it has been bred with the secret express strain from Kalashnikov Seeds. This express version is even sweeter, stronger smelling and has a bit more of the indica to it.
This strain gives amazing yields of top quality buds brimming with resin. This is definitely a strain for the impatient growers out there who still want amazing results.
AK Kush is a feminised strain, so it will only grow into female plants. It will also need a light cycle in order to flower, this can come from the sun or from grow lights. Feminised seeds are great for growers, who usually have no need for the male plants. This means they take up a bunch of time, space and money that could be better used on the female plants.
Feminised seeds also tend to be higher in quality and uniformity than regular seeds. This makes them popular with breeders as well as growers, however feminised breeding is tricky and should only be attempted by experienced breeders.
This strain only needs 45 - 55 days to flower and will grow well indoors or outdoors.
Remember that the cultivation of cannabis seeds is illegal in some countries, please check the laws of your country before attempting to cultivate cannabis seeds.
Genetics:
AK Kush x secret sativa hybrid