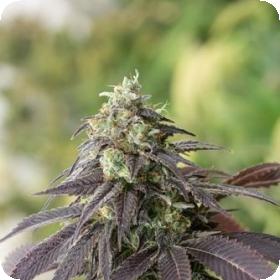 707 Headband Feminised Seeds
707 Headband is a 70% sativa strain that was created by crossing an elite clone from Mendocino in California with a True OG elite clone. This is one super soar-away sativa with bumper outdoor harvests.
707 Headband resulted from a collaborative venture between HSO and a growers' group in Mendocino County. It grows eaily and quickly into a large plant yielding very good harvests of large, dense, sticky sativa buds.
In fact, they can grow so heavy that the branches will require tying or staking in order to support them and prevent snapping. For this reason it is recommended to veg. for only a very short time indoors allowing its height to be controlled.
Indoor plants will produce yields in the region of 375 - 500 gr/m2 in a flowering time of 63 - 68 days. Outdoors the best results will be obtained in warm, dry climates such as a Mediterranean type, otherwise for growers in cooler regions a greenhouse will be perfect.
Here plants can reach impressive heights, in excess of 4 meters is possible in perfect conditions, with yields being almost out of this world; anything between one and four (yes, 4!!) kilos dried weight being produced per plant with northern hemisphere harvests being in the first half of October.
Aromas of lemon and noble woods are exuded by 707 Headband buds with flavours of pine and citrus. Its THC production is prodigious being measured at between 19% - 23% with very low CBD figures of 0.1%.
The effect is powerfully cerebral, invigorating and energising with feelings of utter euphoria which are long-lasting. A true sativa-lover's dream.
Genetics:
Mendocino elite clone x True OG