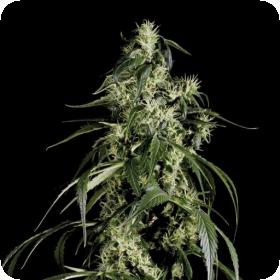 Arjan's Haze #1 Feminised Seeds
Four-time winner of the coveted High Times Cannabis Cup (with a first place win in 2004), Arjan's Haze #1 is a special strain to say the least.
Those who know and appreciate the finest that the world of cannabis has to offer owe it to themselves to check out this strain if they haven't already. It produces a very psychoactive effect that ramps up slowly but is nonetheless exceptionally long-lasting and potent.
Users describe the high as leaving them productive and energised with plenty of motivation to get-up-and-go.
Flowering time for Arjan's Haze #1 is just around 11 weeks when growing indoors. These plants enjoy a little pampering, but they aren't overly-demanding. They are perfect for greenhouse growing as well as other popular indoor growing methods.
They respond equally well to soil and hydroponics along with other specialised methods like SoG and ScrOG. The latter methods can boost productivity considerably but it is impressive all on its own.
These powerhouse plants are able to produce yields as high as 1500 g per square metre. The buds are huge and shimmer with a heavy coat of resin. Best of all, these seeds are feminised making growing the plants relatively simple, even for the novice cannabis grower.
Among its many fine qualities, Haze #1 has a unique spicy flavour with hints of mint. Its aroma is very typically sativa and enhances the various flavours present in the smoke.
The minty flavour is complimented by the overall look of the plants: sleek and pine-tree shaped with enough resin to evoke images of snow-capped peaks.
The shapes of the plants do vary due to their tendency to develop in various ways. When fully mature, the calyxes take on a delicate appearance with hairs that give them a pleasant, light orange hue.