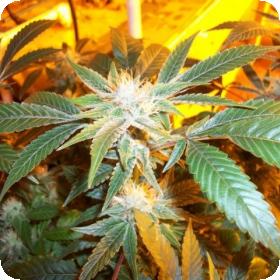 Corleone Kush Feminised Seeds
These amazing seeds from the breeders at Cali Connection are a strain to be reckoned with. Corleone Kush is a powerful Indica strain that hits hard and hits fast.
The effect is certainly in the realms of couch lock and is perfect for anyone looking to relax so thoroughly that they melt. The yield is pretty high, there are no actual stats as of yet but so far all yields have more than impressed.
The buds are around the size of golf balls and are completely coated in resin whilst exuding a deliciously lemony scent and taste. This amazing strain was born as a result of combining Pre 89 Bubba Kush with the classic SFV OG Kush F4 male.
No wonder this strain has got everyone's attention.
Corleone Kush can be purchased in its feminised form. Feminised seeds have only been increasing in popularity since their conception as they can vastly improve the growing process.
Feminised seeds will only grow into female plants which makes them very popular amongst growers who have no plans to breed. For these growers the male plants are a waste of time, space and effort.
They also run the risk of turning those precious female buds to seeds, ruining the harvest. The males will therefore need to be removed at the start of the flowering process.
This means that around half of a regular crop is wasted and so it half of the money spent on it.
Feminised seeds are also of a generally higher level of quality and uniformity than regular seeds. They are not just for growers and can also be used by breeders who have a little more experience.
Breeding two females together is tricky but not impossible, the females simply need to be stressed in such a way that causes them to release feminised pollen. This pollen is then used in the same way as the male pollen and the resulting seeds will also be feminised.
This strain can be grown indoors, outdoors or in a greenhouse and has a relatively short flowering period of just 8 - 10 weeks.