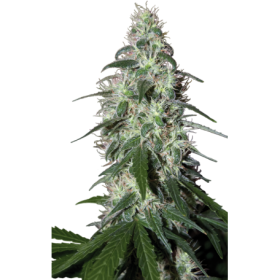 Buddha Seeds Pulsar is a feminised variety of cannabis. What makes it unique in the Buddha line is that it is one of a very few that is not auto-flowering. New growers should understand the difference between the two.
Feminised seeds do not include male chromosomes, so they have a tendency to be very productive and grow easily. What sets auto-flowering (or "auto-feminised) seeds apart is that the flowering cycle is governed by the plant's genetics, not external conditions like light and heat.
These seeds are unique in the world of feminised strains. Most feminised seeds practically grow themselves, making them a popular choice among novice growers.
Pulsar, on the other hand, requires more attention than average so a degree of experience cultivating cannabis is recommended before attempting to grow it. Growers who enjoy a challenge, however, will be thrilled with the way Pulsar shows off their growing skills.
It can also be a valuable learning tool for novice or apprentice growers who have access to a little guidance and direction.
Pulsar is a cross between two pure sativa strains hailing from The Netherlands and Central America. The result is an end product that produces a clear-headed but VERY potent high. Again, experienced users are more apt to enjoy it than those who have never tried it.
The flavour is an eclectic balance of savoury herbs and the aroma almost perfectly mimics its genetic ancestor Haze.
Growers should be prepared to do some pruning because these plants can grow to be exceptionally large and branchy.
They require more space and average when grown indoors but respond well to grow methods like ScrOG and SOG. Outdoor growers should plan to harvest before first frost. Pulsar yields an impressive leaf-to-bud ratio and reaches maturity at 75-85 days.
Please remember that the growing of cannabis plants and the cultivation of seeds is illegal in some countries - please check the laws of your country and don't be growing any plants if it is against your country's laws.
 
Genetics:
Cross between Dutch and Central American sativas