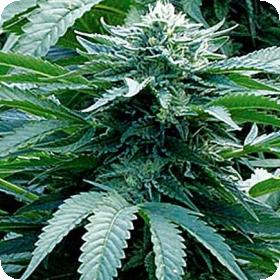 Trinity Kush Feminised Seeds
Trinity Kush is a combination of a 1976 Afghani plant with Master Kush, making it 90% indica. Physically a gorgeous plant with large, fan like leaves and a dense structure.
This does mean that it will require a little extra ventilation during the growing process in order to avoid mould. It is a short and stout plant that grows very well in SoG. Trinity Kush has a classic flavour that is perfect for old school growers and breeders.
It is sweet, earthy and definitely has an overtone of hash to it. Its effect is extremely clear and uplifting but chilled, ideal for relaxation.
Feminised seeds are extremely popular with growers, primarily due to the fact that they will only grow female plants. As a result they can save growers a huge amount of time, money and effort that would otherwise be wasted on male plants.
Since male plants take up half of a regular crop, this is no small consideration when it comes to seed choice. It is also true that feminised seeds tend to have more impressive levels of quality and uniformity than regular seeds.
A lot of experienced breeders also prefer to use them, however feminised breeding can be extremely difficult without the required level of breeding know-how.
This strain will flower in around 8 - 9 weeks and will grow indoors or outdoors.
Keep in mind that the cultivation of cannabis is illegal in several countries. Please check the laws of your country before attempting to grow cannabis seeds.