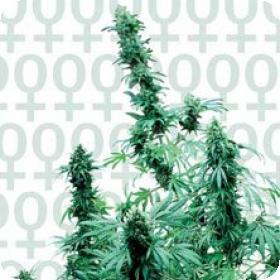 Early Skunk Feminised Seeds
Early Skunk is a strain known for its extremely impressive yield and its reliability, Sensi Seeds claim that is is, in fact, their "best all-round strain in the Sensi Seed Bank Outdoor collection".
The seeds have been modified, feminised, so that they are an easier option for growers who do not desire male plants in their crop. They still, however, have maintained their thick and fast yield which can be relied on in virtually any climate.
This strain harnesses the density and energetic growth of Skunk #1 and the outdoor resilience of Early Pearl, this means that this strain will grow happily in any outdoor location where it will receive direct sunlight. Early Skunk is just one of Sensi Seeds strains designed specifically with growers who experience short summers in mind. No longer do growers and breeders have to harvest their plants before they have fully flowered. This hybrid was also given the gift of being resistant to issues such as mould and fungus. The other much sought after attribute of this strain is it uniformity, too many strains will have varying results when it comes to quality but this particular strain is extremely reliable in this field.
As mentioned earlier this strain has been feminised. Feminising simply means that there is no risk of male plants sullying a crop. Many breeders and growers these days have absolutely no need for the male plants which are non-productive and simply take up time and space.
This method of breeding also means that growers no longer have to purchase twice as many seeds as the desired number of female plants, saving them a significant amount of money.
Feminised seeds have gained even more popularity since the discovery that they could actually be used to for breeding purposes. It is possible, although it is certainly a more intricate process, for females to be convinced to produce the same pollen as the males.
Even though this is not a breeding method that should be taken on by novice breeders it can result in a higher level of quality and uniformity than a crop created from a male and a female plant.
This strain can be grown in cool and cold environments as long as it has access to direct sunlight and boasts an extra large yield. It is 35% Indica and 65% Sativa as well as enjoying a rather quick growing time of just 55 - 65 days.
Expect good yields of thick buds in a short time that deliver a smooth, pungently sweet taste and smell and equally smooth effects.
Please remember that the growing of cannabis plants and the cultivation of seeds is illegal in some countries - please check the laws of your country and don't be growing any plants if it is against your country's laws