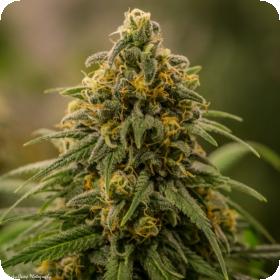 Apollo XX FEMINISED Seeds
Usually Brothers Grimm don't go in for feminised seeds due to the risk of hermaphroditism. However, they have now found a way in which to produce feminised strains without running that risk. Hence, the name Apollo XX, two X chromosomes.
This strain is a combination of a long-running favourite, the Cinderella 99 female. She was bred with their female Genius clone and thus Apollo XX was born.
This strain has all of the amazing scent, huge yield and awesome power of both mother strains. She has incredible resin production and a wonderfully uplifting effect that is perfect for those who just need a little perk added to their day.
This strain is amazing for Screen of Green and Sea of Green growing methods.
Apollo XX is a feminised strain which means that it will only grow into female plants. Feminised seeds are primarily popular amongst growers who have no use for the male plants. The males can cause a lot of issues in a crop and can even harm the female plants.
This means that they have to be removed during the flowering process, a total waste of time, energy and money.
Feminised seeds also tend to have a much higher level of quality along with better crop uniformity. Feminised seeds can even be used by more experienced breeders to create more feminised seeds.
This strain has a flowering time of 55 - 63 days and is best grown indoors.
Remember that the cultivation of cannabis seeds is illegal in some countries, please check the laws of your country before attempting to cultivate cannabis seeds.
 
Genetics:
Genius x Cinderella 99 female