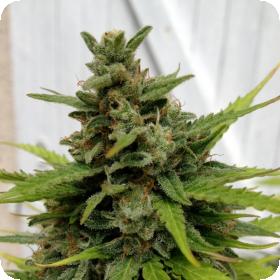 Critical Auto Feminised Seeds
Auto Critical Feminised is a dense, intense, bright orange plant with an increased yield of super tight buds. This strain is extremely productive due to its stature and structure.
It produces a huge amount of lateral branches that will in turn produce a tonne of side buds. The buds are so dense that they can actually start to bend the branches, so this strain may need a little bit of extra support.
This strain has a high THC content and low CBD content which makes it a pretty potent strain, not ideal for new smokers.
This strain is both auto-flowering and feminised, making it ideal for growers. Auto-flowering strains will flower automatically, rather than as the result of a light cycle.
This means that they will have a shorter flowering time as well as a shorter stature. Despite their small size these strains will still produce impressive yields.
This makes them ideal for commercial growing spaces and for those who have smaller gardens. Feminised seeds will only grow into female plants, meaning the growers will no longer have to deal with the pesky male plants that take up half of a regular crop.
This means that growers can save a bunch of time, money and effort. Feminised seeds also tend to be higher in quality and uniformity than regular seeds.
This strain has a flowering time of 6 – 8 weeks indoors and 10 – 11 weeks outdoors.
Remember that the cultivation of cannabis seeds is illegal in some countries, please check the laws of your country before attempting to cultivate cannabis seeds.