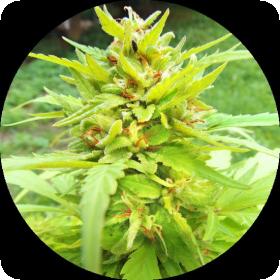 Golden Cannary AUTO Regular Seeds
Golden Cannary is an amazingly unique plant with a low chlorophyll content, making it a yellow/gold colour. Most plants will stay this colour for their whole lives, beautiful albino plants.
The colour isn't the only strange thing about this strain, it also has a peculiar scent and effect. This plant is definitely unlike any other and is perfect for smoking at any time, be it day or night.
For those who want something a little different for their garden, Golden Cannary is a definite win.
This strain is auto-flowering and will flower on its own, rather than as the result of a light cycle. This means that it will have a shorter than average flowering time due to the short vegetative period.
This strain will also be shorter in size, but will still produce the same amazing yield. This makes them great for commercial growers and for those who have smaller gardens.
This strain is also regular, which means it will grow into both male and female plants. This makes it perfect for breeders, who need the male plants for their pollen.
The split of males and females is about even, giving the breeder plenty of choice when it comes to selecting the parents of the next crop. Choosing the best plants will improve the quality of the future plants.
This strain has a flowering time of 3 – 4 months and can be grown indoors, outdoors or in a greenhouse.
Remember that the cultivation of cannabis seeds is illegal in some countries, please check the laws of your country before attempting to cultivate cannabis seeds.