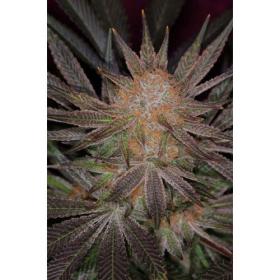 Qrazy Train Regular Seeds
Qrazy Train is made up of a 50/50 genetic split of the purple hued primarily Indica strain, Querkle, and a majoritively Sativa strain called Blood Wreck, a more honed form of Train Wreck. Qrazy Train's Sativa influence contributes to the height of the plant, whilst the Indica genes make for a shortened flowering period, giving the best of both varieties. In order to achieve a more bushy structure the Train Wreck heavy phenotype should be topped fairly early on. With the Querkle variation, it should be given a little longer in the vegetative phase before cutting the top off. The finished plant is said to develop large buds of lime-green with rounded or pointed ends depending on the phenotype and stigmas of a rusty orange hue. The leaves can also take on variations of burgundy and dark purple, some nearly black. The buds have a rather sweet aroma of grape, sandalwood, pine and lavender, with a musty undertone and are said to have quite a cerebral effect.
Qrazy Train comes as a regular seed, as with many of TGA Subcool's strains. This is a seed type often favoured by the more traditional growers out there. It is the general consensus that feminised seeds are often the easier option for a grower exclusively growing the same strain, as only the female plants are needed for this. The males and the pollen they produce, however, are entirely necessary if the grower were looking to create their own crop by breeding their own strains. This allows them the freedom to choose the aspects of each parent plant that they like the most, in order to selectively pass these on to their own customised crop. Many much prefer the freedom provided by a regular seed, in terms of the grower's ability to tailor a crop to their own desires.
This strain could be expected to mature within 8 weeks, providing a high yield in both indoor and outdoors conditions.
Please remember that the growing of cannabis plants and the cultivation of seeds is illegal in some countries - please check the laws of your country and don't be growing any plants if it is against your country's laws