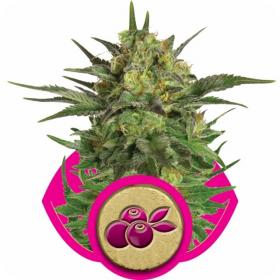 Haze Berry Feminised Seeds
Royal Queen Seeds Haze Berry Feminised seeds is one of the most popular medical strains in California and other medicinal marijuana states. It is a combination of the original Blueberry strain from DJ Shorts and a classic Sativa dominant Haze strain from the Netherlands.
Its Sativa qualities can be seen in how it grows; tall, thin, and with long leaves, the classic Sativa.
It can grow between 100 and 150 cm in height, with blue or purple buds depending on the growing conditions, and will yield around 40-50g per plant dried after a flowering period of 9-10 weeks, quite short for a Haze.
As well as being excellent for medicinal purposes Royal Queen Seeds has added to Haze Berry's excellent qualities by making the seeds feminised. This means that there is almost a 100% chance that all the seeds will be females which is advantages for several reasons.
In a regular pack the ratio of males to females is usually around 50/50, sometimes wavering in favour of the females, but really the males are not needed, as it is the females which are needed.
Consequently, a grower will need to spend twice the amount of money to ensure there are enough female seeds, and then use up twice the amount of space growing unnecessary seeds.
The males only really come in to use if a grower wishes to breed their own crop, and even then it is possible, although very difficult, to coax the females into producing the pollen which is needed for reproduction.
If this is possible then the next batch will have a superior quality than if both males and females had been used as the parent plants.
However, as stated before, this is a process which only the more experienced growers are likely to be successful in, but if a grower is unable to master this it is still more cost effective to stick with feminised seeds.
Please remember that the growing of cannabis plants and the cultivation of seeds is illegal in some countries - please check the laws of your country and don't be growing any plants if it is against your country's laws.
Genetics:
Blueberry x Shining Silver Haze