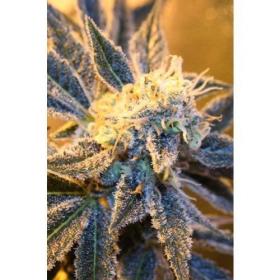 TGA Subcool's Kaboom is a beautiful Sativa strain. It is made up of a mix between what many call the holy grail of Lemon Haze, Jack's Cleaner, and a male Vortex.
The resulting plant is said to grow to a very tall height, boasting an abundant production extremely potent and rather large buds, with an immense resin production covering the entire bud.
These buds have a very pleasing smell of overripe fruits, with undertones of skunk and hash, with the flavours and aromas reportedly only improving after harvesting, the dried buds boasting a medley of Haze, hash, skunk, citrus, berry and pineapple flavours.
A grower would be advised to top this strain early on and continue to watch carefully, as it has the capacity for quite a bit of stretching.
Kaboom, as with a lot of TGA Subcool's other strains, is a regular seed. For those growers wishing only to grow one strain solely, it is true that feminised seeds are often agreed to be the easier option.
For a grower wanting to create their own crop, however, as well as being a more robust variety, regular seeds also produce the much need male plants that enable fertilisation due to the pollen they produce.
A grower would be able to selectively breed the plants with the finest set of phenotypes, meaning the offspring will usually inherit the best qualities of the parent plants, whilst eliminating those less desired by the grower.
The resulting crop would be customised to the specific preferences of the grower and it is this that makes the regular seed still very much a popular option, especially among growers of a more traditional ilk.
Being a strongly Sativa dominant strain, Kaboom's expected flowering period sits between 60 and 75 days. It is definitely worth the wait, however, producing a large yield in both indoor and outdoor growing conditions.
Please remember that the growing of cannabis plants and the cultivation of seeds is illegal in some countries - please check the laws of your country and don't be growing any plants if it is against your country's laws