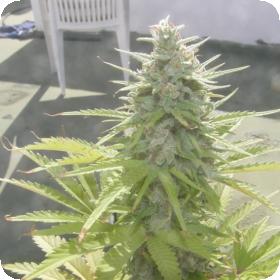 Crystal METH Feminised Seeds
Crystal METH is one of the best loved strains from Dr. Underground. It is well known for its awesomely psychedelic effect, this is definitely a good time strain. It was created by crossing Destroyer and Critical Mass.
This strain has a fast flowering time and produces seriously impressive yields. These plants can get pretty big, so need to be watched if they are being grown indoors.
Crystal METH is just for fun and will leave smokers giggling and seeing through the thin walls of reality. You know, fun stuff!
This strain is feminised and will only grow into female plants. Feminised seeds are usually popular with growers who don't plan on breeding their own crops.
For these breeders the male plants are a bit of a nuisance and can harm the females during the flowering period. This means they have to be removed and, since half of a regular crop is male, this is a massive waste of time and money.
Feminised seeds also tend to be higher in quality and uniformity than regular seeds. Some breeders also prefer to use them, even though feminised breeding is very difficult. 
This strain has a flowering time of 8 – 10 weeks and can be grown indoors or outdoors. 
Remember that the cultivation of cannabis seeds is illegal in some countries, please check the laws of your country before attempting to cultivate cannabis seeds.
Genetics:
Destroyer (CBG) x Critical Mass (Bilbo) cut