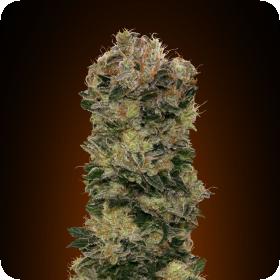 Sweet Soma Auto Feminised Seeds
Auto Sweet Soma is a high-yielding strain that produces massive buds with thick, sugary crystal resin. It has a distinctly sweet flavour that is reminiscent of exotic and tropical fruit and produces an effect that leaves the user feeling extremely relaxed and contented.
The genetics are predominantly indica and the effect is what one would expect from such a strain - a head filling-stone that is also great for managing sleep disorders, muscle aches, and migraines.
The auto version is more compact than the original but does not lose much in terms of yields. Typical plants will yield upwards of 350-400 g per square metre inside or out.
Since these plants are not dependent on specific light cycles to flower they can be grown alongside other strains in the grow room or planted to take full advantage of the warm summer sunshine outdoors which will increase the volume and quality of the end product.
Harvest is around 65 days total for both indoor and outdoor plants. Heights for outdoor plants can be nearly double that of those grown indoors (which also amounts to nearly double the buds).
Auto Sweet Soma plants have a sturdy and compact structure with short internodal distances and medium-sized bright green leaves. The plants are beautiful to look at with a classic Christmas tree shape that is typical of many indica strains.
The plants are very inconspicuous in that they do not give off an identifying scent. This makes them easy to grow in gardens without arousing suspicions among the neighbours.
Better still, each plant is capable of producing multiple harvests if grown in areas with long, warm, growing seasons.
The intense flavour and aroma of Auto Sweet Soma coupled with its moderate effect make it an ideal late-evening strain. It provides a good cerebral effect without the couch-locking qualities of many indicas.