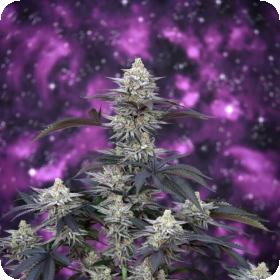 Cherrygasm is one of the newest strains by TGA Subcool, it is a cross between Cherry Pie OG and Space Dude. This amazing strain takes all of the sweet and sour flavour of the Cherry Pie and combines it with the delicious sweet lemon and candy flavour from Space Dude.
Cherrygasm is also famous for its gorgeous appearance, its complexion is dark purple and black with a stunning coating of glittering resin. This strain also produces a fantastic yield and is definitely a great strain for connoisseurs. 
This strain is regular, meaning that it will grow into a mixture of male and female plants. It also means that these plants will be photo period and will require a light cycle in order to flower. Regular seeds are ideal for breeders, who need both genders to easily breed their own seeds.
Since the split of male and female in a regular crop is about 50/50, the breeder has plenty of choice when it comes time to select the parent plants. This means that they can choose the very best plants to act as parents, thereby improving the over all quality of their next crop. 
This strain has a flowering time of 9 – 10 weeks and can be grown indoors or outdoors. 
Remember that the cultivation of cannabis seeds is illegal in some countries, please check the laws of your country before attempting to cultivate cannabis seeds.