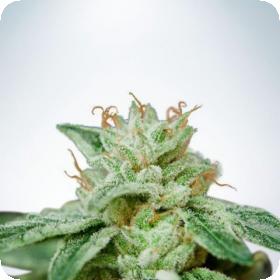 This little beauty is the very first CBD strain by Ministry of Cannabis. It's THC to CBD ratio is an impressive 1:1, making it a fantastic medicinal strain. It has successfully been used to deal with chronic pain and insomnia with a number of other potential uses besides.
It has a unique and refreshing blend of scents, a combination of musk and incense that adds greatly to its delightfully relaxing nature. It is fast flowering and has a CBD and THC level of 10%, a really beautifully balanced plant.
CBD Star is feminised, meaning that it will only grow into female plants. Over the years feminised plants have skyrocketed in popularity as they make life a lot easier for growers.
Most growers have no use for the male plants, and would simply have to dispose of almost half of their crop. Now they can save a significant amount of money on seeds, as well as a good deal of time and energy.
Feminised plants are also generally much higher in quality and in uniformity than regular plants.
This strain has a flowering time of 6 weeks and can be grown indoors or outdoors.
Remember that the growing of cannabis seeds is illegal in some countries, please check the laws of your country before attempting to cultivate cannabis seeds.