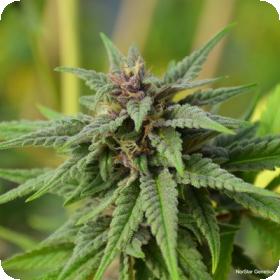 MoonShadow is an elevating and soaring sativa strain with amazing tropical flavours. This is essentially Norstar's version of Purple Haze, one of the most popular strains on the market.
This strain is well known for its gorgeous purple colouration and its impressive trichome production. The effect is extremely happy, perfect for a sunny day in a park or a creative afternoon at home.
This is a regular strain, which means it will grow both male and female plants. It is also photoperiod and will require a light cycle in order to flower. Usually regular seeds are used by breeders, who require the male pollen to create their next crop.
The even split of male and female plants means that they have plenty of choice when it comes to selecting the parents of the next crop. This not only allows them to improve their crop quality but means they can breed out any negative traits.
MoonShadow will take 9 weeks to flower and can be grown indoors or outdoors.
Remember that the cultivation of cannabis seeds is illegal in some countries, please check the laws of your country before attempting to cultivate cannabis seeds.
Genetics:
Old Mendo Haze x Purple Mayhem