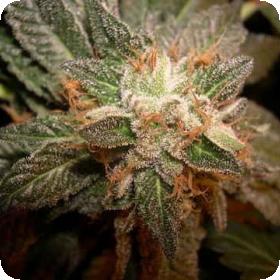 Mastodon Kush Feminised Seeds
Mastodon Kush is a hybrid of two Indica strains, Master Kush and Bubba Kush. It is clearly Indica dominant, as can be seen by its buds which are dripping with crystalline resin. It can give excellent yields if it is treated properly and with a good amount of love.
The flavour is sweet yet peppery with an obvious hint that it is a Kush strain. The effects are smooth and mellow, making it a great medicinal strain. It can often be used for those who are suffering from chronic pain or insomnia.
Feminised seeds are perfect for all the growers out there who are sick to the back teeth of male plants. Males are, unfortunately, a total nuisance. They can harm the female plants, which means they really have to be removed during the growing period.
Since around half of a regular crop is male this can be a huge waste of resources, especially money. For the same cost, growers can receive twice the number of productive female plants. These plants will also usually be of a higher level of quality and uniformity than regular plants.
This strain has a flowering time of just 8 - 9 weeks and can be grown indoors or outdoors.
Keep in mind that the cultivation of cannabis is illegal in several countries. Please check the laws of your country before attempting to grow cannabis seeds.
Genetics:
Master Kush x Pre '98 Bubba Kush