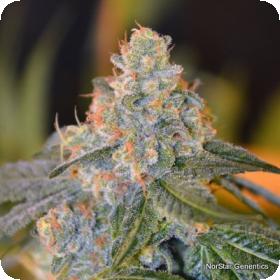 This strain is a combination of OG and Chem which has resulted in a super potent, delicious strain. Lands End has a typical Chem flavour with the sweetness and dense bud structure of OG.
This type of hybrid has been long awaited and finally it's here. Inexperienced users should beware of it can be a pretty powerful strain and should definitely be used carefully.
Lands End is a regular strain and will grow into a combination of male and female plants. It will also require a light cycle in order to flower. Breeders prefer to use regular strains because of the roughly even split of male and female plants.
This allows them to select only the best genes to be passed on to their next crop, improving the quality of the plants. Regular seeds are also used by traditional growers who prefer them for their stability and predictability.
They are also sometimes used in attempts to reintroduce cannabis into the wild, due to their ability to breed and thrive on their own.
This strain needs 10 weeks to flower and can be grown indoors or outdoors.
Remember that the cultivation of cannabis seeds is illegal in some countries, please check the laws of your country before attempting to cultivate cannabis seeds.