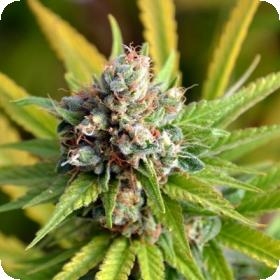 Borgota Breeze Regular Seeds
Borgota Breeze is a fantastic medicinal strain which was created by combining Exodus Cheese and Chelumbian. The result is a happy, smelly plant that produces an impressive amount of resin.
This strain is a little strong but once a user is used to it the effects are extremely pleasant. This is a great one for lifting the mood as well as dealing with unpleasant side effects of illnesses such as nausea.
The aroma is quite powerful but generally pleasant with a combination of pine and fresh fruit with a little earthy spice to round it off.
This is a regular strain, which means that it will grow into a mix of male and female plants. This makes them ideal for breeding as the split of genders is roughly even.
Having plenty of males and females to choose from means that the breeder can be very careful when they select the parents of the next crop.
Choosing only the best male and female will improve the over all quality of the next crop, while removing any undesirable traits. Regular seeds are also photo period, which means they will require a light cycle in order to flower.
This strain needs just 8 weeks to flower and can be grown indoors or outdoors.
Remember that the cultivation of cannabis seeds is illegal in some countries, please check the laws of your country before attempting to cultivate cannabis seeds.
Genetics:
Exodus Cheese x Chelumbian