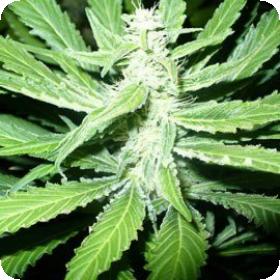 P.P.P. (Pure Power Plant) Feminised Seeds
Pure Power Plant (PPP) is a strain whose name says a lot about its character. It represents the genetics of some of the best South African landrace cannabis strains and has the added advantage of being incredibly stable.
This hybrid variety by Nirvana Seeds takes a good thing and makes it light years better by feminising it and keeping it stable and pure. This is an F1 hybrid, making it as pure as it can be without taking a clone of one of the original mothers.
The effect is as the name suggests: a real 1-2 punch that covers the smell, the taste and the overall effect.
When growing indoors, it might take some time before these plants flower. That's the ancestral genetics at work. Once those flowers form, though, they seem to grow before your eyes.
Methods like Sea of Green along with good pruning and proper care will result in fantastic yields of exceptionally high quality product.
Outdoor growing should be done to capture as much sunlight as possible. These plants will respond best to long, sunny days and warm nights. They also like to draw a lot from their environments so don't over-feed them.
A light diet of proper nutrients should be all they need. One clear advantage to outdoor growing is that these plants are stretchy and the more they are allowed to stretch their branches, the more buds will appear.
The best attribute of PPP is its ease of handling and cultivation. Novice growers will greatly appreciate how well the seeds respond and this is one strain that will provide them with some valuable knowledge and experience about the basics of cannabis production.
These plants are very forgiving teachers and stand up to a good degree of trial and error.
Please remember that the growing of cannabis plants and the cultivation of seeds is illegal in some countries - please check the laws of your country and don't be growing any plants if it is against your country's laws.