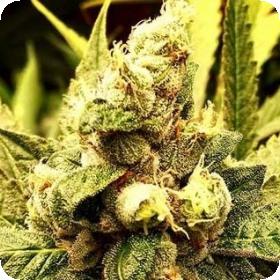 Dr. Who is the result of a cross between Mad Scientist and Timewreck. This plant is a slightly Indica strain boasting a high THC level, as well as exceptional resistance powdery mildew.
Dr. Who can present in four main phenotypes. The aroma and flavour of each is very similar, the difference mainly being the construction of the buds.
Some are very round, while some can be a little slimmer, with each taking on a pale green hue, or that well-loved purple colour.
It has been proven in all instances to be very effective as an appetite stimulant, as well as being helpful for the likes of MS Syndrome, ADHD, nausea, depression and anxiety, making it a popular choice among medical growers.
Since this strain comes in the form of a regular seed, as with many of the varieties TGA Subcool Seed's have to offer, it will usually produce an equal amount of male and female plants.
For those wishing only to cultivate the same strain alone, and therefore only requiring the female plants, it is often the general opinion that a feminised seed would be the easier option.
For those wishing to cultivate their own unique strain, however, the males are quite essential.
This is what allows a grower to select only the best features of each mother and father plant and selectively breed these in order to pass along the most favourable aspects to the future crop, as well as eliminating the less favoured traits.
The ability to control and tailor a crop to a grower's own preferences and requirements mean that the regular seed remains an ever-popular choice, particularly among the more old school growers out there.
This strain has an expected flowering period of around 56-63 days. It can be grown in both indoor and outdoor conditions, producing a medium yield.
Please remember that the growing of cannabis plants and the cultivation of seeds is illegal in some countries - please check the laws of your country and don't be growing any plants if it is against your country's laws.
Genetics:
Mad Scientist x Timewreck