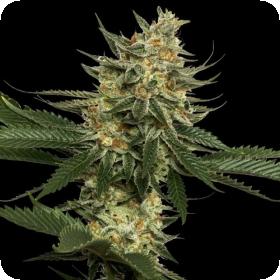 Tangie is a multi award winning, Sativa dominant, mega plant. Among a number of other amazing awards, this strain won 1st place in the Best Seed Company Sativa category at the HT Cannabis Cup in 2013. This strain is a combination of Cali - O and a Skunk plant. It has been around for a long time and has only been getting better over the years.
This strain will grow well in SoG and SCRoG due to its lanky structure. It develops large, stinky, resinous buds which smell strongly of tangerines. Tangie is famous for its powerful flavour, which is amplified when it is grown in good organic soil.
This is a regular strain which means that it will grow into a combination of male and female plants. These strains are usually more popular with breeders, who actually need the male plants in order to breed their next crop. The male pollen is used to fertilise the females and the resulting plants will take on the best traits of each parent.
Thus it is a good idea for breeders to pick only the best two plants to improve the next crop. There are also a lot of growers who still prefer to use regular seeds in order to keep things nice and traditional.
This strain needs 9 - 10 weeks to grow and will grow well indoors or outdoors.
Keep in mind that the cultivation of cannabis is illegal in several countries. Please check the laws of your country before attempting to grow cannabis seeds.
Genetics:
Cali-O x Skunk - Crockett's Selection