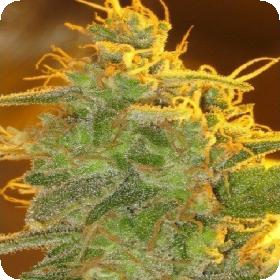 Love Triangle Regular Seeds
When Bodhi Seeds went to work on Love Triangle, their goal was to create a strain that would have similar qualities to Goji OG.
What they got was a strain that had a very different aroma and flavour profile as well as a host of interesting phenos, all of which have their own character and features.
The flavour of lemons and berries has been replaced with a more dank Kush-like quality that shows up in all known phenotypes.
Different plants will also present with different smells and tastes. Some users report everything from Chemdawg to wild cherries to the unique smell of playdoh and Spearmint Kush.
Some phenos present with massive nugs like an OG while others produce buds that are smaller, tighter, and soaked with resin.
The look of individual plants might be a bit unpredictable but the quality is consistent regardless of the phenotype. Variety is the spice of life and that is precisely what you get out of Love Triangle: wondrous and entertaining variety.
The variation in characteristics also gives the grower the opportunity to identify a favourite or two and clone them to keep the preferred genetics intact.
The plants grow to a tall height even indoors so high ceilings will be necessary when growing Love Triangle inside. They prefer potting and soil setups and pre-planning to provide ample floor space will be necessary to ensure adequate lighting.
Light cycles are typical for both vegetative and flowering stages.
When growing outdoors, the plants will grow taller and bushier. They will also take longer to flower. When planted early in the season, most phenos will be ready for harvest by late September or early October.
Be sure to finish harvesting before any threat of frost - some plants put up with extreme cold better than others.