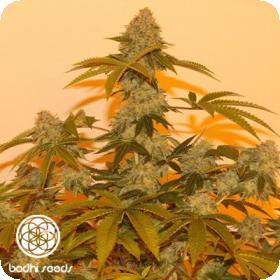 Lazy Lightning Regular Seeds
This strain was created by crossing '88 G13 x Hash Plant with Headband Loompa. The result is an amazingly well balanced Indica and Sativa strain. It is also a well balanced mix of OG Kush and Hash Plant which means that it should have something for everyone.
It has the scent and the flavour of earth, hash, lemon and pine making it an extremely enjoyable smoke.
Lazy Lightning is a regular strain which means that it will grow a combination of male and female plants. It will also flower as a result of a specific light cycle which can come from the sun or a light cycle.
Breeders tend to prefer to use these strains because they are the easiest to breed with. They breeder can select the best male and female plants to act as the parent plants. This means they can tailor the genetics to their own preferences whilst removing any undesirable traits.
This strain has a flowering time of just 63 days and will grow extremely well indoors and outdoors.
Remember that the cultivation of cannabis seeds is illegal in some countries, please check the laws of your country before attempting to cultivate cannabis seeds.