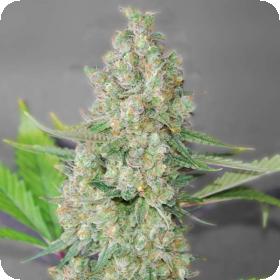 Super Skunk Feminised Seeds
This strain is an indica dominant plant that is a vigorous grower with a strong and enticing scent. It is an extremely low maintenance strain that will reward all types of growers. However it is not for those who are completely new to growing as it still takes some experience and patience to grow.
This strain has won a whole lot of awards and for good reason. Its effect is extremely potent and is definitely not for beginner smokers. In fact many believe that it takes more experience to smoke this strain than it does to grow it.
Super Skunk is a feminised strain which means that it will only grow into female plants. Feminised seeds can save growers a huge amount of time, money and effort. Regular seeds will be half male and half female, and the male plants would need to be removed during the flowering period.
This wastes a lot of time and money that would be better used on the female plants. Feminised seeds are also higher in quality and uniformity than regular plants. A lot of breeders also use feminised seeds, however its quite difficult to breed with feminised seeds and this should only be attempted by experienced breeders.
This strain needs 45 - 50 days to flower and will grow well indoors, outdoors or in a greenhouse.
Remember that the cultivation of cannabis seeds is illegal in some countries, please check the laws of your country before attempting to cultivate cannabis seeds.