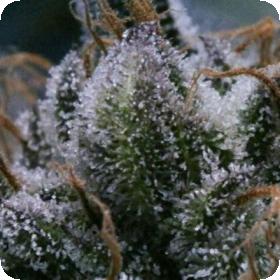 Tuna God was created by crossing two former Cannabis Cup-winning BC strains, viz. Tuna Kush and the B.C. God Budd.
It is a fast-flowering plant, mostly suitable for indoor cultivation. High resin production facility with THC levels to match.
Tuna God is a predominantly indoor strain with a flowering time of only 7-8 weeks. It's sporting lush, dark green leaves in true indica fashion.
Its buds are rock-hard and caked in resin layers, making it a great choice to make a variety of extracts.
The terpene profile borrows from both parent strains that are Skunk-like with a distinct fuel note that is somewhat palate-numbering in effect.
THC levels may exceed 25% and the potent overall effect is the combination of the cerebral and the physical.